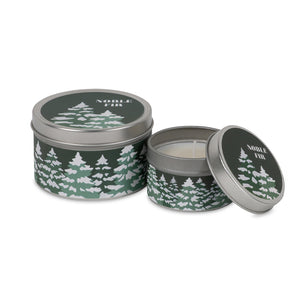 clean-burning
lead-free wicks
fast shipping
secure checkout
~ new ~
All of us here at GoodLight love the scent of a real Christmas Tree in December, and we figure many of you do too! Surprisingly, we had a hard time finding a candle out there that smelled like the real thing, so we created this Noble Fir candle a few years ago…it is as close to a freshly cut fir or spruce as you'll find.
All of GoodLight's scented candles are scented with a blend of pure essential and botanical oils derived from plants, extracted by cold-pressing, steam or vacuum distillation. As you might expect from GoodLight, there are no phthalates, synthetic or artificial fragrances, chemicals, lead, or paraffin (petroleum). Just like the unscented foundation line, the wax is 100% clean-burning palm wax, and wicks are pure cotton.
•Size:
small 2 oz. tin: 3 oz. tin with lid, filled with a 2 oz. candle. Tin is 2½" in diameter and 1⅝" high.
large 6 oz. tin: 8 oz. tin with lid, filled with a 6 oz. candle. Tin is 3" diameter x 2" high.
•Burn time:
small 2 oz. tin: up to 15 hours
large 6 oz. tin: up to 30 hours
•Weight:
small 2 oz. tin: 0.18lb
large 6 oz. tin: 0.45lb